You'll likely be put on the waiting list for the type of unit you've requested (2- or 3-bedroom) — they are seldom immediately available.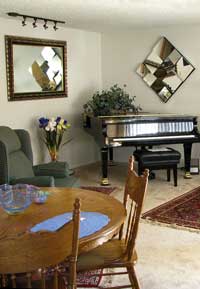 When you reach the top of the waiting list and we learn that a unit will soon be available, you'll be given the opportunity to accept it. If for some reason you don't want that particular unit, the chance to move into the unit will be given to the next person on the list. You will not lose your place on the waiting list if you decline to occupy a specific unit.
Once you decide to accept the unit offered to you, you'll be asked to sign a purchase agreement and give Greenbriar a $500 deposit.
When your unit is ready for occupancy, you and management will agree on a closing date and time, at which point you'll be asked to pay the current share par value in full (less the $500 deposit) and your prorated carrying charges for the current month with a cashier's check.
At that point you'll become a full member of Greenbriar. We look forward to being your neighbors and working with you!
*You may mail your application(s) to us or drop it off during office hours — whatever's most convenient for you. Each application must be accompanied by a check for $35.
Please don't hesitate to contact us at any point if you have any questions about the application or process — or if we can be of help in any other way.