The Greenbriar Townhouses, Inc., is a housing co-op, providing its shareholders with a unique kind of home ownership. Rather than owning a townhouse outright, each member buys a share in the co-op's non-profit corporation. Shareholders then have the right to occupy a townhouse for as long as they remain members of the co-op.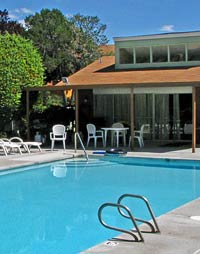 Greenbriar consists of 16 residential buildings on 10 tree-shaded acres in the Sandia foothills, all owned, governed, and maintained by co-op members. The structures include 160 2-floor townhouses, each occupied by a person or a family who is a shareholder in the cooperative. 96 townhomes are 2-bedroom units (864 sq. ft.) and 64 are three-bedroom homes (1225 sq. ft.).
Additional co-op amenities include a small community library, a swimming pool, playground, and a community meeting room. Schools, churches, movie theaters, a branch library, post office, and public transportation all are easily accessible, and foothills biking and hiking trails are just moments away.
Best of all are our neighbors — each other. The Greenbriar is a true community, where members regularly socialize together. Aside from the fact that we have to work together to keep Greenbriar alive and well, we genuinely like and care about each other. The welfare of each and every member of Greenbriar directly affects the entire community.